After the mass and the blessing of the brand new rescue centre and its vehicles, on Wallis island, the Prefect read the message of the French Minister of the Interior to the fire brigade.
The rescue center was officially inaugurated by the handing over of the keys to the head of center, warrant officer Maséi.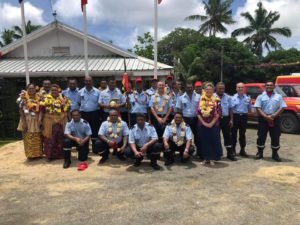 On this occasion, Saatula and the Prefect were named "Honorary Firefighter" of Wallis and Futuna.
> Credit: Préfet de Wallis-et-Futuna Facebook