The losses for the New Caledonian economy due to the four-week confinement, in March, were estimated at 34.1 billion Pacific francs (460 million Australian dollars), or the equivalent of 3.5% of its GDP. And, by the end of 2020, the total losses could exceed 50 billion francs (680 million Australian dollars).
To fight against the crisis, the government of New Caledonia presented on monday, November 9, a major economic recovery plan, which contains 22 measures. Here are the main ones.
– Abolition of customs duties on certain products ied mportfrom Australia, New Zealand and Fiji for a one-year period ;
– Encouraging the hiring of young people under 25 years in small businesses. This measure will be financed by an increase in fuel prices ;
– Extension for one year of the exceptional purchasing power bonus allowing companies to pay their employees up to 100,000 CFP francs (AUD 1,360) and totally exempted from social security charges and income tax ;
– Encourage the public sector to buy more from local companies ;
– Exemption from social security charges and taxes for companies with economical problems ;
– Increased payment terms ;
– Export aid ;
– Creation of an economic emergency commission to facilitate the realization of private projects ;
– Establishment of a single digital counter (cesam.nc) to simplify administrative procedures and to facilitate access to financial aid or technical support services ;
– Partial unemployment financed at 70% by New Caledonia ;
– Compensation for loss of income ;
– Home support allowances for people at risk and for home childcare ;
– Drafting of a new social contract between the social partners with negotiations on the competitiveness of companies and the purchasing power of employees. The objective is to adopt concrete proposals on wages, profit-sharing, absenteeism, working time flexibility, etc.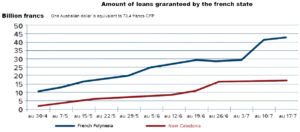 At that point, it seems that the social partners do agree with this plan. Theses measures will be financed by a loan. And it will require the adoption, in the upcoming weeks and months, of various country laws by the Congress of New Caledonia.
The three provinces of New Caledonia will also, if they do decide so, have to vote on a certain number of deliberations for the implementation of this plan.